Sunroom Contractor in Valley Stream, NY 11580
Plan Your Fantastic New Sunrooms In Valley Stream, NY Right Now!
Do you want to sit outside on a cool summer morning? Would you like to gaze out at the forest or hillside behind your house from the windows without being bitten by mosquitoes?
These desires are easy to fulfill with an aesthetic sunroom addition to your home in Valley Stream, NY. Adding a sunroom can be an ideal home addition because they are an outdoor structure that adds to your home's beauty and curb appeal.
However, you can enjoy the beauty of the outdoors while remaining comfortable inside. An elegant sunroom will increase the square footage of your home while avoiding the costs associated with a traditional room addition.
Hire our Four Seasons Sunroom in Nassau County for fast sunroom installation services, and we'll bring light into your life. Contact us today on 516-253-2329.
Our Sunroom Design Team In Valley Stream, NY Can Go Over All Of Your Options
When you contact our professional sunroom contractor in Valley Stream, NY, you will be able to discuss your options with our professional during our free in-home design consultation.
We can go over the area where you intend to put your sunroom and design something perfect for your home. Our proficient sunroom contractor in NY will assist you in designing and building up the ideal sunroom for your needs.
Four Seasons Sunroom has sunrooms designed to expand and enhance your home while integrating its natural aesthetic appeal. Adding a sunroom to your home by hiring our competent sunroom installation professionals in Valley Stream, NY, can create a sense of spaciousness, elegance, and warmth.
We believe that each of our sunrooms significantly increases the value and desirability of your home. We understand that everyone has different preferences regarding their living space. This is why our sunrooms are available in various designs and options to assist you in finding the ideal customized solution.
Sunroom Designs & Projects That We Have Mastered
Four Seasons Sunroom offers various sunroom designs and construction possibilities in Valley Stream, NY. From traditional conservatories to modern glassrooms, each of these different styles and design options is ideal if you want to bring the outdoors inside and enjoy the wonderful weather all year in Nassau County.
We Are Masters In:
1) Screen Room: A screen room is a great place to enjoy cool breezes on the outdoor patio in the spring, fall, and summer seasons in Nassau County. A screen room can be built in the backyard or on the side of a house. While a screen room keeps out direct sunlight and pests or bugs, it does not keep out heavy rain.
2) Solariums: An elegant glassroom is a great place to enjoy the seasons. These floor-to-ceiling glass rooms can be configured for one, two, or all three seasons.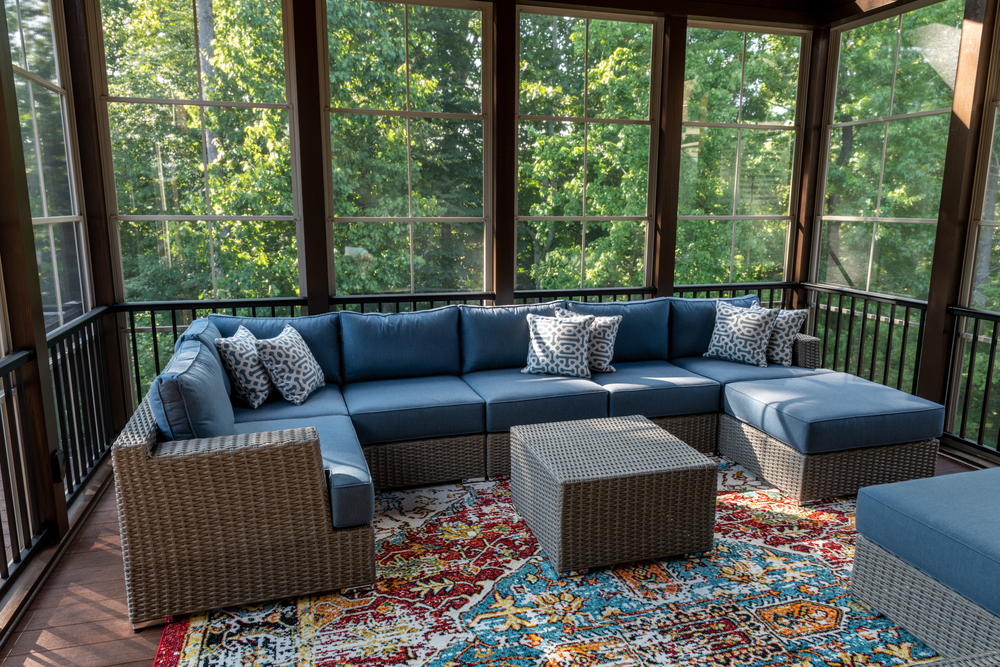 3) Three Season Rooms: A three-season room is more than just a screened-in porch; it has glass windows with screens. These rooms are available in double-pane and single-pane insulated glass, providing a comfortable living space from spring to fall or even until winter arrives.
4) Four Season Rooms: As the name implies, four-season rooms enable you and your family to enjoy fully insulated sunrooms all year. These energy-efficient sunrooms protect the family from the elements in a vibrant, open, and comfortable setting.
Personalize Your Sunroom Addition As You Envision!
We offer fast and affordable sunroom addition solutions in NY so you can enjoy your outdoor patio. In addition to the different styles of sunrooms available, we can build your addition to your specifications.
When you contact our insured and certified sunroom contractors from Four Seasons Sunroom in Valley Stream, NY, we will arrive at your home for a free consultation to help you decide which type of sunroom product is best for you and your lifestyle. You'll have a lot of options, such as:
Various sizes are available.

Finishes for the roof and frame

Studio sunrooms with curved and straight roofs

Energy-efficient and low-maintenance vinyl doors

Sleek and modern aluminum doors

A natural, home style look of wood doors
Talk To Us Today To Build Your Incredible New Sunroom
Our sunroom contractors at Four Seasons Sunroom in NY assists you with numerous home addition solutions. We will educate you with the necessary information to make the right decision for you and your family. We'll start building your sunroom as soon as we've decided on a plan and a design.
Don't put off the home addition you've always wanted and deserved. Contact our skilled and licensed sunroom contractor today on 516-253-2329 to learn more about adding a sunroom to your home in Valley Stream, NY.
---
Some information about Valley Stream, NY
Valley Stream is a village in Nassau County, New York, United States. The population in the Village of Valley Stream was 37,511 at the 2010 census. The incorporated Village of Valley Stream is within the Town of Hempstead, New York, along the border with Queens. The village is served by the Long Island Rail Road at the Valley Stream, Gibson, and Westwood stations. Money Magazine ranked Valley Stream as "the best place to live in New York" for 2017.
In the year 1640, 14 years after the arrival of Dutch colonists in Manhattan (New Amsterdam), the area that is now Valley Stream was purchased by the Dutch West India Company from Rockaway Native Americans (they were a Lenape, or Delaware, band, known by the place where they lived).
With populations concentrated to the west, this woodland area was not developed for the next two centuries. The census of 1840 list about 20 families, most of whom owned large farms. At that time, the northwest section was called "Fosters Meadow". What is now the business section on Rockaway Avenue was called "Rum Junction", because of its taverns. The racy northern section was known as "Cookie Hill", and the section of the northeast that housed the local fertilizer plant was called "Skunks Misery". Hungry Harbor, a section that has retained its name, was home to a squatters' community.
Robert Pagan was born in Scotland on December 3, 1796. In or about the late 1830s, Robert, his wife Ellen, and their children emigrated from Scotland. On the journey to the United States, one of their children died and was buried at sea. The 1840 U.S. Census for Queens County lists Pagan's occupation as a farmer. Two children were born to Robert and Ellen Pagan after they settled in the Town of Hempstead.
Learn more about Valley Stream.
Useful links for Valley Stream, NY
Map of Valley Stream, NY
---
Here are some general contractor-related links: